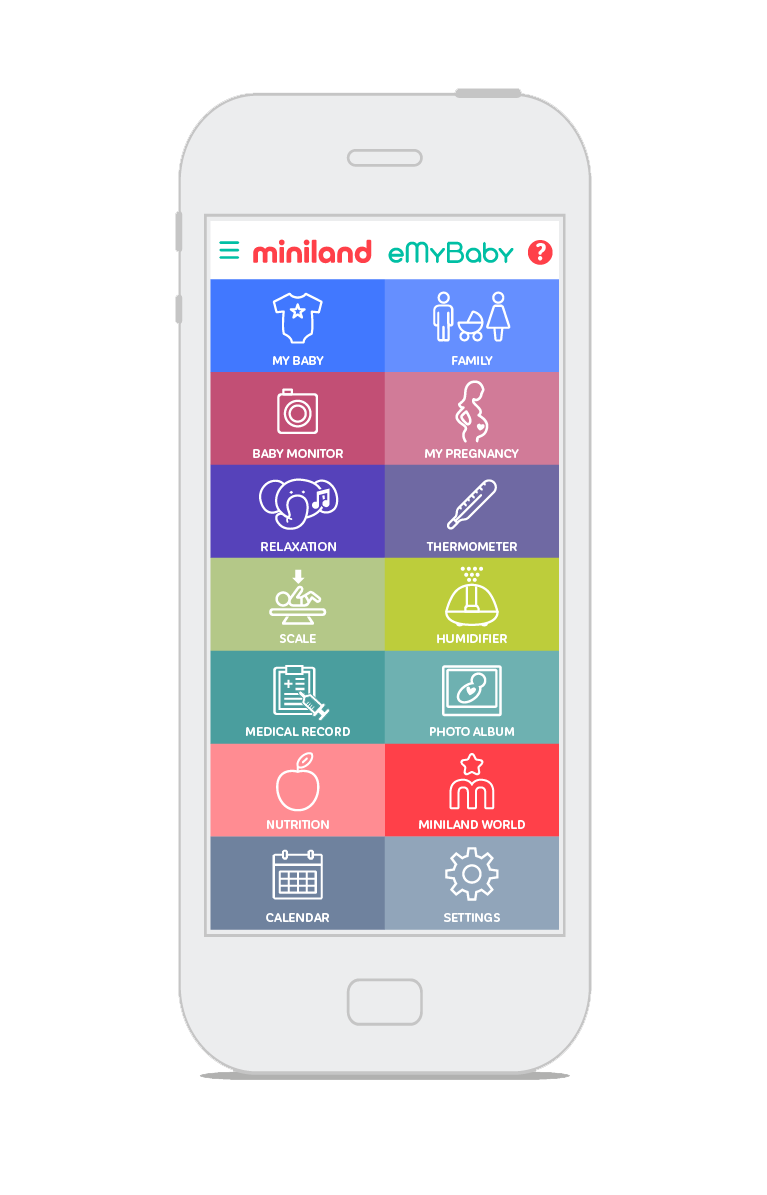 MY BABY
Remember all the information of your baby's birth and follow their evolution: medical, temperature or weight.
BABY MONITOR
Do you want to see your baby wherever you are? Choose your baby monitor model, set it up and see your baby from your PC, tablet or tmartphone.
Relaxation
A great source of emotions and feelings for the baby! Endless possibilities, with multiple songs and sounds specially designed for the little ones and completely customizable.
Scale
From baby to child, keep their weight under control. Save your child's weight automatically and follow the evolution.
MEDICAL RECORDS
Register all your baby's medical information: weight, height and cranial perimeter and follow the evolution comparing the data with the WHO standards.
Nutrition
Access and download our selection of recipes and if you have our Chefy 6 you can also download the full version.
CALENDAR
Because we know you are busy, we help you organize the medical appointments, family events or important dates in a unique calendar.
FAMILY
Add the information of all the family members and create your baby's family tree.
MY PREGNANCY
We help you keep track of your pregnancy step by step. Enjoy the sound of your baby's heart today and always, record all the information about your progress and the baby's.
THERMOMETER
Register your baby's temperature manually or automatically and follow the evolution. Share the information with the pediatrician or with your loved ones.
HUMIDIFIER
With Humitop Connect from Miniland you will be able to switch your humidifier on and off, control the temperature and humidity of your home, choose manual or automatic mode and program a switch-off-time. Everything from our app!
PHOTO ALBUM
Save the pictures of every special moment lived with your baby to enjoy them with your loved ones.
Miniland world
Find out more about Miniland, other products, offers, our e-commerce, our games' app and follow us in our Facebook and Instagram.
Settings
You can check eMyScale and your profile settings, eMyBaby version and our contact details.

because being parents is the biggest challenge of your lives
eMyBaby app offers parents the help they need in their busy daily lives. Trust us.
IS APP TO YOU. YOU DECIDE
At some point we all wonder whether we are really prioritising what matters most in life.
We prioritise what is URGENT: work, goals, payments, shopping, cleaning, order, etc. Without devoting ourselves to WHAT REALLY MATTERS: our children, our family, our loved ones.
It is up to each and every one of us to live life from one perspective or another.
ASSOCIATED PRODUCTS
All our Miniland baby products are designed to be complemented with eMyBaby app, obtaining the maximum performance and reliability from our baby monitors, heart listener, thermometer, scale and beMyBuddy. Find the ones you like the most.
GOES WITH YOU
Enjoy using eMyBaby ap: anytime and anywhere. Our app is available for mobile phones, tablets and computers. You can access it very quickly..
Elena González
Product Manager and mum
"We believe in technology, but how are we going to use it from now on? We have to reconsider lots of different issues about education, confidentiality and ethics. eMyBaby is born as a technological app whose objective is to strengthen the emotional bonds among the family members"